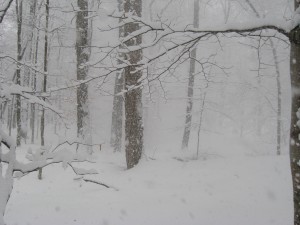 Wow.  It just keeps snowing here.  It's been snowing all day, wet snow, blizzard conditions, the whole thing.  At least eight inches, but who knows how much there really is, and no sign of stopping either.  I was planning on heading to the library today for some intellectual nourishment, but that has been postponed.  I walked out to do some correspondence which I felt I had better postpone no longer.
What saith the bard?
Who doth ambition shunne,

and loues to liue i' th Sunne:

Seeking the food he e'ts,

and pleas'd with what he gets:

Come hither, come hither, come hither,

Heere shall he see no enemie,

But Winter and rough Weather.