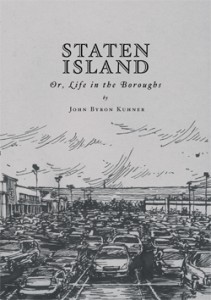 My first book, Staten Island, or, Life in the Boroughs will have its release at the Staten Island Museum (a.k.a. Staten Island Institute of Arts and Sciences) at 1 p.m. on November 6th, 2010.  All are invited.
From the well-written press release: "John Byron Kuhner ferries the reader across New York Harbor to the island that stands forever in Manhattan's shadow. His Staten Island is haunted by the ghosts of Whitman and Thoreau, Dante and Garibaldi, Washington and Burr, and the decay of our ideals amidst the mounds of our garbage. A sentimental education in love, liberty, and gratitude, Staten Island offers a moving portrait of New York's fifth borough from its earliest days to the present."
The book, which is beautiful, with fold-out map and illustrations by Lesley Chen, can be ordered here.