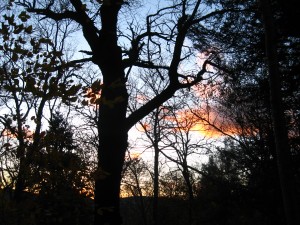 Fall is mostly done in the high mountains.  The woods are mostly bare and your eye pierces right through them to the mountains beyond.  And it has gotten very quiet.
Last night, in one of my contentedly melancholy moods, I found myself singing this contentedly melancholy song, and I stepped out onto the porch to share the lyrics with the woods:
Although there are many, I look for no one, no one but me
I search for things that are taking me high and far out of reach.
But this is the place I will call my home
I live with the lies and the fear all alone.

Nothingness
All I have to feel is my loneliness
Nothing in the end  except an empty chest
And nothing lasts forever.
And I stepped out into a snowstorm!  Heavy flakes were falling all around, the first of the new season.  They were coming so thick they obscured everything but themselves.  And inner and outer came together for a moment.
The snow did not accumulate, but flurries continued intermittently throughout the night and during the next day.
I had brought in the final harvest just before the snow fell; another twenty pounds or so of tomatoes, mostly green ones, which I hope to ripen indoors.  I took down the tomato-cages, stacked them in a corner, and tossed the plants into the firepit, and quickly what had been a garden became just another patch of bare ground.  I did much of the work by the light of the full moon, for I had been working all day, helping someone plant an orchard.  But I could tell it was time to shut down the garden – the air was bitterly cold on my hands.  Sure enough, that night as the snow fell we had our first deep freeze.  When I came out in the morning the ferns were all dead, and all my water-basins were covered by a crust of thin ice.