I've been fascinated by the Mormons for a fair amount of time, for reasons both personal and temperamental: personal, because of the Mormons I've known, and temperamental because of my interest in all God's supposed communications with men.  On my cross-country bike trip in 1999 I biked across the Burnt-Over District of New York, so-called for its wild religious enthusiasms in the nineteenth century.  I knew I was going over Mormon Country, as there were signs indicating things like the home of Brigham Young and so forth.  But I biked right past the site of the "Hill Cumorah," not knowing that it was the Mount Sinai of Mormonism, where Joseph Smith received the Book of Mormon; and I greatly regretted biking past it.  It's plausible enough that the hill will be a pilgrimage site a thousand years into the future, when a great deal else in our culture is long forgotten.  Religion and art are very nearly the only human things that last.
And in fact it was an artistic reason which led me to set my sights on Nauvoo, Illinois, when driving north from Cairo, instead of going on a Lincoln binge in Springfield, as I considered.  Several years ago, while in the Smithsonian, I set eyes on a carved stone from the original Mormon temple which Smith had begun on the banks of the Mississippi River.  It had all the mysterious stony inscrutability of an ancient artifact; a rising Sun personified, with oddly fleshy lips and a prominent nose, and a facial expression I could not quite remember having seen before, serious and aloof and sensual and superstitious (not entirely evident in the linked photo).  Though putting a face on the Sun is nothing new, this version seemed utterly American: a Deist and Masonic symbol of reason and enlightenment, but with an animist spirit.  I felt what I know other commentators looking at Mormonism have thought: here for the first time the New World has been able to free itself and worship God as it sees fit, without the mediation of the Old.
This made me very curious to see the Mormon Temple, or what was left of it; here were untutored stonemasons, obviously with a great deal of talent, building a Temple to God in the wilderness, without the corrupting influences of education, which in almost all instances makes true religious art impossible.  And that this was a purely American movement (as opposed to a religion born in Siberia or someplace else) made it all the more interesting to me.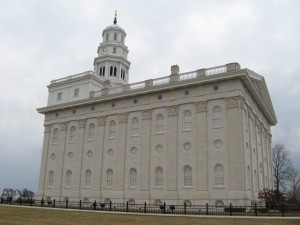 The facts artistically proved disappointing: in fact, the temple at Nauvoo is beautifully situated and not much else.  I could not enter, as I am not a Mormon; and the exterior (reconstructed; the old one was destroyed, but the reconstruction is faithful if spiritless) looks more or less like your average 18th-century Protestant Church in London, a grand pilastered salt box with an Old-Tom steeple.  The only main difference was the typical Mormon emphasis on whiteness without shadow – expressed also in Mormon history by the doctrine that dark skin was a karmic punishment from God, and by an ethical system which does not appear to recognize man's deep need for evil.  (And which seems to work well enough, in that I have absolutely nothing to say against the ethical character of any Mormon I have ever known; but admittedly I have never lived in Salt Lake, where I hear the picture is more complex).  Indeed, the only interesting artistic idea in the temple appears to have been the very stones I had seen in the Smithsonian; called Sunstones, they crowned all the pilasters on the exterior of the temple, and were reproduced in knick-knacks available at the tourist shops.  I picked up a sunstone fridge magnet as a souvenir, $5.95, "handcrafted in China."
The situation, though, is quite fine; on a central position on a bluff overlooking the river, the temple's steeple is visible for miles and it commands a fine, broad view.  Smith had purchased a lobe of land jutting into the river, like a very small version of the Campus Martius in Rome; unfortunately, unlike the Romans, he built his city there, on the low ground.  It would still to this day be better as a public park.  The grid he laid out was never filled in.  The whole area is in danger of being flooded by the terribly volatile Mississippi, and the later inhabitants of Nauvoo, after Smith's day, wisely built on the heights by the temple.
My artistic curiosity quite satisfied, I turned my thoughts more explicitly to Smith himself.  There is a statue of him in Nauvoo only an American could conceive: he is represented as a handsome thick-necked beardless Bunyan with a  treefelling axe in his right hand and a book of the Lord in his left; you might say he had just given up his NFL career to be the star of a remake of Little House on the Prairie.  He was a Prophet, but also a Pioneer, and President; the Mormons significantly use the American secular-political term to denote the head of their church.  He was a candidate for the U.S. presidency the year he died, in fact, and he seems to have intended a similar religio-politico fusion seen in Muhammed: indeed, Smith called himself a "second Mohammed."  The obvious thing can be said about both of them, that their revelations from God only served to increase their own personal power; and in both cases, God was keen on getting them laid.  Smith always publicly denied the charge of polygamy leveled against him, but the evidence is good that all those denials were calculated lies.
"Prophecy," said Mark Twain, and I'm certain he had Smith in mind when he said this, "is a good line of business; but it is full of risks."  So it was with Smith.  I am told he had 12,000 followers by 1844.  You may see the quarry which they opened at Nauvoo for the construction of their temple, and it is now an impressive hole in the ground: many men must have labored in it.  Smith had several brushes with the law, at first for an early case of fraud and later for a series of violent acts later known as "the Mormon War"; but the end came in 1844, when he suppressed a Nauvoo newspaper which had published less than complimentary things about him.  This appeared to be a violation of the First Amendment (Illinois had been a state for twenty-five years by then), and at least some of the charges in the paper – attempting to set up a theocracy – were considered plausible enough for him to be arrested.  He was brought to Carthage, Illinois, the county seat, and imprisoned awaiting trial for treason.  The trial never occurred; a mob lynched Smith less than two days later.
Carthage is today a quiet town, organized like many American county seats, with a grand courthouse in the center of a large square fronted by shops.  I put my laundry in a laundromat here, and strolled around the town; but to my surprise I found almost no mention of Joseph Smith.  The old courthouse had been torn down and replaced with a grander one; as with every other place in Illinois (it seems), there were historical markers in honor of Lincoln: apparently he had lost a case here.  He had defended a murderer who had been hanged.  Whoever wrote the marker suggested we should be surprised that Lincoln lost the case, though it also indicated that Lincoln's client had in a fit of rage stuck a knife into a man who subsequently died of his wounds.  This sounds like a case an honest man might not mind losing.  Later, apparently, Lincoln returned and gave a speech, earning another historical marker.
I returned to the laundromat and asked a man there, who seemed delightfully well-informed and intelligent, why there were no historical markers for Smith; and he replied, "You mean besides the jail?"  Apparently it was still standing, but at the outskirts of town.  I got directions from the man, folded my laundry, and went to take a look.
I found my way there easily enough, and pulled into the large and utterly – terrifyingly – empty parking lot.  As I approached the interpretive center I passed several steles of porphyry inscribed with generic uplifting spiritual commentary by Smith; I was surprised to find such hagiography at a historical site, but as I came to the front door I realized this was because the site must be owned and operated by the Mormons.  A loudspeaker was broadcasting generic uplifting spiritual choral music into the gray Illinois March afternoon.  I stood there for a second with the music, just me and the Mormon Tabernacle Choir.  The feeling of desolation – the empty parking lot, the scattered drops of rain, the knowledge that some man's sad spiritual burlesque had come to its end in this place, the terrible music mechanically transmitted and looped to cover the human emptiness here – so overpowered me at the time that I did not want to open the door and enter.  I knew the kind of people I would find on the other side.
But eventually enter I did, and stood in the lobby, which was carpeted and furnished precisely like a funeral parlor: the green carpet, the end tables with the lamps, the framed pictures on the walls.  I was scrutinized by a few old women in an adjoining office – they were saying something like, "Oh here he is now," wondering why, I suppose, it had taken me so long to get from my car, which was visible in their window, to their lobby.  An elderly man in a dark suit and tie came out of the office and welcomed me.  I saw, as I had surmised, that I was to have a guided tour.  I stayed neutral, saying more or less nothing; when asked why I had come, I said I was interested in Joseph Smith.  This the man took as potentially hopeful, but after a few minutes of his tour, my hardened skepticism was I think evident to him –  he probably was pretty astute about such things by now, and really I had no desire to raise false missionary hopes – but he soldiered on with the script.  We entered a long hall rather like a viewing room at a funeral home, where he conducted me from one awful work of art to another, which showed the pious stages of Joseph Smith's prophetic career.  Like that of Muhammed it involved a gradually revealed expansion of doctrine, which of course to the skeptic looks a great deal like a con man's tentative exploration of what he can get away with.  It is always sad to see that the All-seeing Almighty has not yet come up with a way to protect His prophets against this accusation.  The doctrines of course got more and more improbable and conferred greater and greater benefits on Smith himself (though that really didn't come up in the missionary version of the story).
My host seemed like a lovely old man, the kind of man you would love to have as a father-in-law, the kind of man who checked the oil in his car every time he filled up the tank, just like it says in the manual.  I could see him mentally straining to keep to the script, word for word.  When the magic word "true" came up to his lips, it unleashed a canned descent into profession: "And I myself testify that it is true, that Joseph Smith blah blah blah."  I knew this routine from my time on Staten Island, when I was particularly investigating Mormonism.  As it so happened I had already embarked on this project when I was in a pizzeria and sure enough, who walked in but two Mormon missionaries.  Life does work this way sometimes.  I struck up a conversation and soon enough they were visiting my house, giving me all kinds of priceless information and whatever books I wanted.  As the time came for them to set the hook and get me to come to Mormon services, they kept saying to me, "Ask in your heart if it's true."  "I know in my heart that it's true."  "Your heart will know that it's true."
Needless to say this made me ponder what exactly the word "true" meant anyway, especially to them.  It certainly did not mean factually accurate or empirically verifiable or descriptive of experience.  The main meaning as far as I could tell was, "Ask in your heart if you want to be one of us."  And this is why religious doctrine is so often considered not as discrete bits of information, true or false, but rather an identity.  This happens with other bits of information as well, of course; anything deemed controversial can become a matter of identity (Homeric scholars have defined themselves as "Unitarians" or "Separatists" based on their answer to "the Homeric Question," for instance).  Religion, however, seems to promise a deeper experience of identity (the original meaning of which is "sameness") to counter the human feeling of isolation.  In order to do this, at times it seems to erect a barrier of falsehood around itself, which is bizarre and even alarming to any rationalist.  But it does seem to have some usefulness; I know when I have explained my religious beliefs to people, they have scoffed at them, saying, "Yes, but everyone believes that.  That's not really a religion."  It's like trying to form a club of people who like air.  It's too obvious – everyone likes air.  You don't get liberated from your human isolation by agreeing with everyone about something obvious.  Indeed the points of agreement may make the feeling of isolation all the worse, by making them feel inexplicable and puny.
Religious barriers to entry make it a condition that the person's need for an experience of identity is sufficiently powerful; and once inside they ensure that the field of identity is appropriately restricted and intense.  There certainly are many varieties of such barriers: it has been remarked that the Jewish mode of praying – swaying back and forth while mumbling, as if crazy – is designed to be offputting; it is certainly distinctive.  Christians have functionally made Sunday the Sabbath, and Muslims Friday, though neither group actually claims that the Jews have gotten their days wrong.  It was just necessary to have their own.  Celibacy – a particularly lofty barrier to entry – separates "the religious" from other Catholics, and also  nearly ensures that the clergy will protect each other and the interests of their order – for there is their identity – and not Catholics more broadly.  And almost religions all have a component of factual insistence on certain claims which work well enough as metaphors and are far more difficult as fact.
Mormon counterfactuality and implausibility, then, may actually have helped it; certainly, to an outsider, it is shocking how little the fact that its founder is an obvious impostor has affected the faith  of the millions of "Latter-Day Saints."  The identity has been further strengthened by persecution.  Again, to a rationalist, Joseph Smith's end seems merely to prove the old wisdom that no one cares if you think you're a prophet of some god, as long as you don't touch their wives, take their stuff, or tell them what to do.  My host called the lynch mob "assassins" and Smith "a martyr."  I suppose it is a shame his life had to come to such a pass; but he hardly seems to have been enough of a man of principle for the scaffold.  Con-men do rather owe it to the world to surf the crowd to the very end.
After giving me the brief – fifteen minutes or so – history, my host wanted to show me "an eighteen-minute video," which I absolutely vetoed.  I planned to sleep in Milwaukee that night.  I wanted to see the prison.  So he took me over to the jail, a curious building, really a big stone house, with a kitchen, den, and small cell downstairs, and two bedrooms upstairs: a normal bedroom and a dungeon.  This last was an iron cage set away from the external walls of the building, with slits in the walls rather than windows.  Smith was apparently removed from the dungeon at a certain point and placed in the bedroom – the dungeon, directly beneath the roof, was apparently broiling in late June.  His confinement does not appear to have been particularly strict.  He is said to have had a gun with him when the mob attacked, and to have used it.  He apparently tried to leap out the window, but was shot, possibly before leaping, and certainly after.  I stood for awhile at the window, and contemplated the spot where he fell.  There was nothing particularly beautiful or symbolic about it; he had tried to escape, but his attackers were too many and too well armed.  And more than anything else, he tried to escape too late: supposedly he believed until very nearly the end that the approaching men were his own, there to rescue him.  Had he known they had come to kill him, he might have tried his chances at the window before they arrived.  It was a short fall and he would not have been likely to be injured by it.
At the conclusion of the tour, as I was staring out the window, the elderly gentleman said to me, "You're on a quest.  I can see that.  And I think at the end of your quest, you'll find that God loves us, and that there are prophets living in the world."  I thought it was a prophecy true enough, but it didn't feel like quite enough to bridge the gap between us.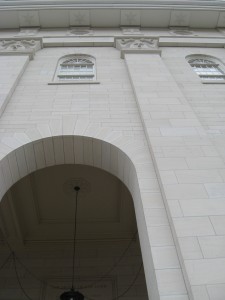 One of the many cherished and irrational Catholic beliefs is the cult of saints; not that long ago, someone asked me to pray to a particular saint for a particular cause, and I will, for her sake, though of course I doubt that a prayer directed to one saint will be any different in God's eyes than any other.  I similarly know of Catholics who seem to take a strong personal interest in having John Paul II proclaimed a saint; though of course if he was a holy man, he is holy whether or not a Roman canonization process proclaims it.  These were not people who had bought real estate in his hometown and were looking to capitalize.  Their interest seems to be the identity-phenomenon, the way lovers of a sports team feel energized by a championship – for their team.  This always makes me think of the first story of the Decameron, one of the great stories and deeply Catholic and extremely irreverently devout, about a man of unparalleled wickedness, who manages to deceive a rather simple holy man with a false confession and ends up being canonized as Saint Ciapelletto.  Needless to say, some canonized saints are Ciapellettos, who have gotten in due to various flaws in the system; and other saints of course probably never existed at all, but are fictional characters whose fictionality was forgotten in the lapse of ages.  Among these last is now often numbered St. Christopher, who now has no saint-day, due to consensus among Vatican scholars that he never existed, despite all the St. Christopher travelling medals which exist in the world.
But why is accuracy about the past required in such matters?  What does the past really have to do with the present?  Does religion get its validity from scrupulous historical accuracy?  For both Mormonism and Islam, the religions appear to be far better than the men who founded them; and I will confess that perhaps the lack of information about older religious founders may be the main reason why they do not seem equally as bad.  What are we to make of this?  There are many schools and other institutions similarly born of bad causes, which in time become something else.  There are good Rhodes Scholars and Nobel Prize winners, despite the characters of Rhodes and Nobel.  Mormonism seems to be particularly well-equipped to improve with time, because of their doctrine of progressive revelation.  God can always change his mind – an important freedom usually denied him, at least in theory.  I could tell that my Mormon guide, with his dark suit and tie and short hair and everything else, had been formed to believe that God wanted men to be just like Ronald Reagan, without the wit or humor.  The women in the compound also looked just like Nancy Reagan.  But now, ads on the internet show the ideal shifting, and now will be someone devout and diverse – like Barack Obama, but without the drugs.  Creativity may even become part of the ideal.  This chameleon-like capacity is admittedly a bit terrifying, but again, this is the American religion – openness to innovation has to be worked in somehow.  And it is an improvement: much like American civil government, Mormonism is moving from an institutionalizer of white supremacy to a celebrator of diversity.  It is perverse, but it is part of the universal perversity, the work of the God who allows nothing to be all bad, and nothing all good.