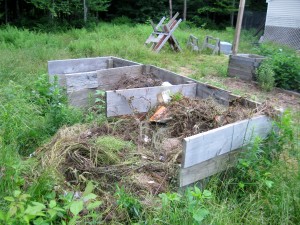 I came out yesterday morning to find my compost pile entirely tossed.  This must be the work either of the raccoons or the bears, though in this instance the fact that the board closing off the compost bin had been ripped off indicated that it was the bear.  And a neighbor reported having a bear prowling around the house for much of the day.
I never heard him, but it was a wild, windy night and the forest was very loud.  In general I don't have things in the compost that would interest a bear very much – maybe he smells the cherry pits? – but he does come by every now and again and take a look.
The best part is that he turned the compost for me.