Our night in St. George was our first in a bed – each night going across the country our hospitium had been a floor – and we took advantage of our opportunity, sleeping soundly and late. It was to be our last night in a bed until the other side of the Sierras. This good night of sleep exacted its toll, however, as we somehow managed to leave the motel without the packet we had prepared for the trip, which included our maps, guidebooks, and permit for the hike. We did not discover the amission until we had gone too far to turn back.
Our original route was across Nevada along the Extraterrestrial Highway and straight to the eastern terminus of our hike, where we would meet the friend who would shuttle us to the western trailhead. As we discussed it with him, however, we learned that this plan was not going to be practicable because Tom – good L.A. man that he was – drove a Chrysler convertible, which was too small to carry the three of us and our packs. We were going to have to head for the western trailhead, drop off our packs, and send one person – that ended up being me – to meet Tom on the eastern side of the mountain, to leave our car at the eastern trailhead to be picked up when we left the mountains.
This created an entire day of driving for me – more than fifteen hours in a car, as it turned out – but I think it was providential. Our new route was I-15 around the southern nub of the Sierras and then up into the Central Valley. It would take us right through Las Vegas, one of the handful of large American cities I had never visited. We didn't have much time – we were going to be camping that night under sequoias in the Sierras – but I felt it was time for me to get a glimpse of Vegas.
The night-approach to Las Vegas is celebrated: for dozens of miles before the city comes into view, it appears on the horizon as a blister of unearthly light in the desert darkness. The day-approach is no less striking. In the East, the country is thickly settled: in remote areas there are towns every few miles, in populous districts such northern New Jersey the country takes on the appearance of a single continuous conurbation. As you approach Las Vegas, you cannot believe you are nearing a major city – there is not even a village in any of the surrounding country. The city is surrounded by unpeopled wastes. Outside the reach of Las Vegas's municipal water system the barren desert can scarcely support a measly village.
And then, you round the corner, and there is Las Vegas. It is aptly named. The mountains drop away and you enter a truly vast plain – the largest we had seen since entering mountain country west of Denver. The basin probably collected water and was furnished with modest springs which might have supported the city's population in 1950, which was eight thousand people. Now it is a city of two million, with skyscrapers and a fine skyline emerging out of the nothingness of the desert. And those springs have long since been drunk dry.
Two million people – it was almost impossible to believe that we had put two million people here. There was nothing immediately prepossessing about the site, a baking lowland in a flat sterile desert. But there was something about the human landscape which was bewitching: the buildings were not like the businesslike blah-boxes of Tucson or Omaha or Albuquerque. There was some style to the place – some effort to be beautiful, some kind of sheen. Even in the first glance you could feel that this was not a place that had merely evolved as a matter of course: it was the result of a concerted effort to make something out of nothing. A glimpse showed both the sheeny vitreous ingenuity and the sandy nothing it had arisen from.
We pulled off the interstate at the northern end of town and at first it looked just like any other city, with highway underpasses and big square buildings and paved gridded streets – this was comforting to some extent, showing that the place was real and not just a hundred casinos in the desert. But we then turned onto Las Vegas Boulevard, the "Strip," and sure enough, it was truly unlike anything I had seen anywhere else in the world. It was first of all the most completely tourist-dominated city I had ever seen – even Florence looked like a local hangout compared with this, and it went on for mile after mile. It was also very cheap – where else can you stay on the most important street economically in a major city in the developed world for less than $30 a night? And then there were the wedding chapels, which were truly striking and bizarre. I couldn't believe how many there were. Can that many people really get married in Vegas? (Then how was it I had never met any?) And the wedding chapels all competed for attention with each other, with over-the-top decorations, dumb names, and alluring signage. Its organizing principle was the impulse-buy from an automobile, a very specific specie of advertising. And again, there weren't three or four wedding chapels – there were dozens upon dozens, indicating that Nevada businessmen had discovered what religions discovered long ago, that marriage was a tidy and profitable business.
The wedding chapels are mostly found on the northern edge of the Strip, with the motels, where rents are relatively cheap and the buildings are all one, two, or three storeys. We then drove through a large construction zone – a sign that Las Vegas is not yet done growing – and entered the area you've probably seen pictures of, the ritzy part of Las Vegas, with skyscrapers, giant hotels, big casinos, fountains spewing into the desert, replicas of famous monuments from all over the world, and fat Americans waddling and squinting in the desert sun, waiting for the light to change to cross over to the next casino. Oh well.  At least there was some kind of pedestrian culture.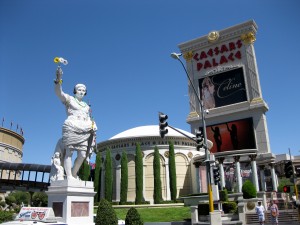 I had an inkling that I wanted to see Caesar's Palace, and when the Augustus of Prima Porta came into view, wearing headphones and carrying a bouquet, the decision was made. It was so absurd it had to be seen.  Celine Dion was playing the Colosseum. "In Las Vegas there's no place like Rome," proclaimed the ad. We swung our car into the vast – vast, ten levels – labyrinthine parking garage, which was stuffed with innumerable cars on a Tuesday morning, and parked for free. Las Vegas, they say, is a cheap city if you don't spend money on vices. I believe it. One way or another, I was very impressed that Caesar would let us use his parking garage for free. This was not Vail. In fact in general it was the anti-Vail, democratic where Vail was oligarchic, open where Vail was closed.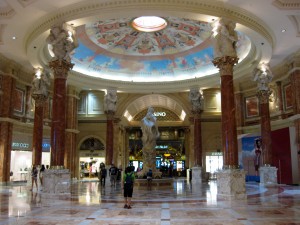 My general good impression of Caesar's Palace never left me. Coming up the escalator into the mall – the "Forum Shops" – I saw a garbage can in the form of a Greek krater. Lining the walls were the frescoes from the Villa of the Mysteries in Pompeii. We walked into a vast circular atrium, where every detail had been considered – floor, plinth, column, capital, caryatid, rotunda, trompe l'oeil, grotesque, monumental statuary, coffers. There were frescoes which told stories of poets and lovers, and statues whose sculptors you could feel winking at the few passersby who actually understood them. There was a statue of Aphrodite holding aloft the golden apple given her by Paris, as the fairest of them all. In all my years with classical images I have never seen Aphrodite with an apple – obvious iconography, and doubly meaningful in the context of Eve – and it pleased me mightily to see it. Whether or not anyone else noticed it or understood it that day was irrelevant to me – the artist and I had made the connection. And this went on for blocks and blocks: the entire area is enclosed in a single building, the shops fronted by an artificial Roman "street," with a fake blue sky painted onto the vaulted ceiling overhead and fake sidewalks below, with rhythmically interspersed fake piazzas with fake public fountains and fake "open-air" restaurants. Busts of emperors and philosophers were set into the cornices, glowering down on Juicy Couture and Guess shops. There were giant fishtanks where salt-water fish swam amid fake Roman ruins. There were fountains with moving parts, at least one of which – I did not stay for the show – featured a dirty old emperor – let us call him Tiberius – surrounded by buxom women, each one of whom could have made it to the Fountain of the Nymphs in the Piazza della Repubblica in Rome.
In short, everything pleased. And there was a grandeur to the place which was hard not to be affected by. Some was produced by size: massive caryatids fifty feet high looming over tesselated floors over which flowed crystalline waters; vast rotundas frescoed over every inch; and columns which would have suited the Zeus of Baalbek. Some of the grand effect was the result of technology: spiral escalators, intricate lighting, high-oxygen air. And some by artistic excellence: the replica of the Trevi Fountain, for instance, was an excellent copy. And I do not need to hear any nonsense about originality. Rome herself was a copy of a Greek original.
But of course there is an element of hilarious decadence, which I cannot deny. In one place I saw a pilaster which had been struck somehow, and had broken open. It was styrofoam, coated in stucco to produce the effect of stone. (Let it be noted that this is becoming modern custom: in repairing old buildings, styrofoam and stucco is frequently used in place of stonemasonry, in universities, federal buildings, institutions, etc. Harvard and the U.S. government are as fake as Las Vegas when it comes to things like this). But Las Vegas had wit and style to go with its decadence, and for a man who does not take humanity too seriously the place has a great deal to offer. Many of the casinos were a bit bland, but several had superior themes which were pursued with art and ingenuity. Across the street from Caesar's Palace I saw a replica of the Doge's Palace in Venice. It made me think of Ruskin, who lovingly catalogued every column and capital in almost every major building in Venice in his famous Stones of Venice. We need a new Ruskin, to write a Styrofoams of Las Vegas.
A story is told about Goethe, that when he visited Assisi – locale of the famous Basilica of Saint Francis, with its superb frescoes by Giotto – he glimpsed the Temple of Minerva in the main piazza, a work of the late Roman Republic, and he was so awestruck by its proportion and antiquity – it was the first ancient building he had ever seen – that he covered his eyes and insisted that he be led out of the city into the fields immediately, so he could keep unsullied in his mind that singular image of perfection. He was in fact led out of the town, and he never did visit the Basilica.
That was what we did with Vegas. Caesar's Palace was so superb that I needed no more impressions of the place. We returned to our car, and drove on out, back into the desert.