Last Saturday there was a party to celebrate the Denning Town Garden, the creation of a group of citizens who wanted to create the town's first public space. After the party – which was a wonderful celebration of our little upstate community – an artist who lives next door to the town garden showed – on a massive screen draped across his barn – the movie Singin' in the Rain. I had long wanted to see it, and I saw it in style, my neighbors around me, an apple tree dropping apples overhead and a nice campfire keeping my back warm. Sometimes I don't know how I got to be this lucky.
From the title and the well-known dancing in the rain scene, it would be easy to imagine that Singin' in the Rain is a typical musical (an art form which has never appealed to me). The rain-dance scene is a good dance number, but it's lighthearted in precisely that goofy and fake way which makes musicals repellent to certain types of people (like myself). Escapist, superficial, saccharine – it's easy to toss adjectives at something this syrupy and have them stick.
It's unfortunate that this is the signature scene of the movie, because it's not indicative at all. Singin' in the Rain is different. It's one of the most extraordinary movies I've ever seen.
The first thing I'll say about it is that it was very much a movie – selfconsciously so, in fact. Often a movie is just a relatively convenient way of telling a story and making money off it, but the story might just as well have been in book- or drama-form (and often it is). Singin' in the Rain could not be anything else – it is utterly untranslatable. It couldn't even be a Broadway show – its matter is so completely bound up with the methods of the cinema. And it is highly conscious of this fact – in one astonishing sequence, Gene Kelly is discussing with a movie executive his plan of adding a modern frame to an 18th Century story ("The Dancing Cavalier"). He says "it would go something like this" and then the movie veers into fifteen minutes of musical framing, extravagant beyond belief, about the acting career of a newbie arriving on Broadway, culminating in an astonishing pas-de-deux with Gene Kelly and Cyd Charisse, whose formal composition and manipulation of perspective rivals anything that has ever been achieved in oil painting – and this continually evolving, frame after frame after frame. This pas-de-deux is supposed to represent what is going on in the mind of the young actor as he sees his old love – or what is spiritually happening to both of them – but in the world the young actor has no money, and when the camera reverts to the perspective of the world she walks on by, tossing him a silver dollar as she does. Disappointed he moves on, seeing another idealistic newbie arriving, and that concludes the frame as envisioned by the man making the proposal to the movie executive, who says diffidently at the conclusion of the scene, "Well, I'll have to see it." Yes, you would, because nothing short of the cinema can convey the voluptuous visual richness of the world you have been taken to in that time.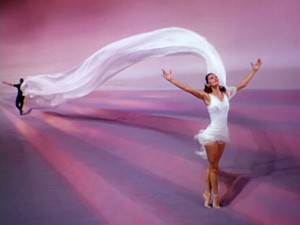 That is indicative of the astonishing technique of the movie, which is, as Clive James says of it, "as good as it could be from one end of the miracle to the other." The main plotline is that a famous silent-movie actor – Gene Kelly – has to confront a transition to speaking movies, which brings out his insecurities about his own abilities and the artistic worth of the movie industry in general (yes, this has been remade). While working on a movie which cannot be successfully presented as a "talkie," he hatches a scheme to convert it into a musical. On the way there are serious reflections on acting, moviemaking, moneymaking in the arts, the difference between appearances and reality, the nature of celebrity – in short, a summa of Hollywood culture. There are sixty scenes – an unbelievable richness flowing by, ranging from set dance numbers to honest dialogue taking place on sets. There is a love-duet which the actor says he can't do in the parking lot in daytime – so they return to the studio and put on the lights and fans and create a moonlit night for themselves. There are swashbuckling raids on castles and girls coming out of cakes at Hollywood parties and swanky nightclub numbers and honest conversations in parked cars in the Hills. In short, the amount of interesting things occurring is just about overwhelming.
And it is adorned of course by superb dancing. I had never seen a Gene Kelly movie before, and he is worth seeing: with Cary Grant one of the great standard-bearers for midcentury American culture. Kelly is buoyant and optimistic – that is some smile – but also athletic and powerful and masculine. He is always contrasted with Fred Astaire, the other great male screen dancer of his time, and the contrast is instructive: Astaire looks like he made a deal with the devil, to trade in his masculinity for his dancing abilities. Kelly radiates exuberant, athletic masculinity – Cyd Charisse said of him, "When he lifts you, he lifts you!" He had given up none of his masculinity. He was the America that won World War II – a country which could not only kick the world's ass, but provide it with its entertainment while doing so.
So this movie comes summa cum laude. It really is "the Citizen Kane of movie musicals." I can't believe it took me this long to see it. Be on the lookout for it and don't miss it if it comes to the Film Forum or the equivalent. Now I want to see some more Gene Kelly movies, but I can't imagine any can surpass this.